Spannendes Jahr im NRW-Forum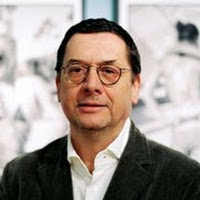 Das Jahr im NRW-Forum wird spannend, sagt dessen Lenker Werner Lippert (Foto). Einen Blick in die Gegenwart und Zukunft der Fotografie wirft das NRW-Forum vom 4. Februar bis zum 6. Mai unter dem Titel "State of the Art Photography". Darin sind die Arbeiten von 41 internationalen Fotografen zu sehen. Ausgesucht wurden diese von insgesamt acht "Advisors", darunter Andreas Gursky, Thomas Weski, FC Gundlach und Werner Lippert unter dem Kriterium, welcher Künstler in den kommenden Jahren die Fotokunst maßgeblich mitbestimmen könnte. Denn die befindet sich momentan in einem großen Wandel. Es ist nicht nur die digitale Revolution, die das Bildermachen verändert, auch der globale Datenraum wird zu einer neuen Ressource. Aber auch der entgegengesetzte Weg zum analogen Unikat ist, so zeigt die Ausstellung, wieder eine gern genutzte Möglichkeit unter den Nachwuchs-Fotokünstlern.
Vom 26. Mai bis 5. August 2012 schließt sich mit "Polaroid" eine weitere Fotoausstellung an. Aus der einstmals weltberühmten "Polaroid Collection" werden 400 Polaroids von Größen der Fotografie-Geschichte wie Ansel Adams, Helmut Newton, Robert Mapplethorpe und William Wegman gezeigt. Edwin Land, der Erfinder von Polaroid, begann in den 1960er Jahren Künstler und Fotografen mit seinen Kameras und Material auszustatten. Die Künstler konnten damit experimentieren, der Hersteller nutzte die Rückmeldungen der Fotographen einerseits um das eigene Material zu verbessern und baute andererseits aus deren Kunstwerken die "Polaroid Collection" auf. Nach der Insolvenz der Firma Polaroid im Jahr 2008 wurde die gesamte Sammlung als Teil der Konkursmasse bei Sothebys zur Auktion angeboten und drohte in alle Welt zerstreut zu werden. Ein Teil dieser Bilder hat aber eine neue Heimat gefunden und kommt im Mai erstmals nach Düsseldorf.
Einen Überblick über die Arbeiten des britischen Porträt- und Modefotografen Ranking, bürgerlich John Rankin Waddell, zeigt das Forum vom 15. September 2012 bis 20. Januar 2013. Ranking fotografierte zum Beispiel internationale Berühmtheiten wie Kate Moss, Heidi Klum, Gisele Bündchen, Claudia Schiffer, Vivienne Westwood, Madonna und David Bowie. Vor allem für diese Porträts wurde er bekannt.
Waren es am Anfang noch verschiedene Brit-Pop-Bands, wie Pulp und Blur, vertrauten bald auch die großen Pop-Stars wie Madonna, M.I.A., Lily Allen oder Kylie Minogue auf Rankings Talent. Editorials für die deutsche "Vogue", die "GQ" oder "Harpers Bazaar" brachten den Fotografen international in die Spitze. Doch trotz des großen Erfolgs: Rankin setzt auch heute noch auf "normale" Models, Alltägliches und schlichte Motive, die mit einem für ihn typischen Witz punkten. "Ranking" wird die erste große Ausstellung des Briten in Deutschland sein.