Opernhaus lockt mit Ballett-Highlight "b39" – Zwei Uraufführungen und eine deutsche Erstaufführung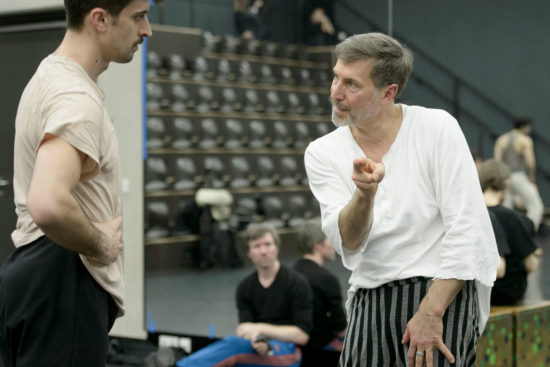 Ballettgenie Martin Schläpfer bei der Probe Foto: Lust auf Düsseldorf / Hojabr Riahi
Zwei Uraufführungen und eine deutsche Erstaufführung erwarten Freunde des Ballets im Programm b.39 am Freitag, dem 12. April (19:30 Uhr) im Opernhaus Düsseldorf. Mit den 2014 von Het Nationale Ballet Amsterdam uraufgeführten "Dances with Harp" eröffnet ein weiteres Meisterwerk Hans van Manens das Programm – vorgestellt in einer neuen Fassung als "Dances with Piano" mit der jungen, preisgekrönten Pianistin Schaghajegh Nosrati.
"Atmosphères" nennt Martin Chaix sein Stück, in dem er Klangwelten von Krzysztof Penderecki, György Ligeti und Ludwig van Beethoven aufeinander treffen lässt. Von 2009 bis 2015 selbst Tänzer beim Ballett am Rhein, choreographierte Chaix 2013 für seine damaligen Tänzerkolleg*innen mit "We were right here!!" sein erstes Stück. Seither hat er mit verschiedenen Ensembles in Europa, Korea und Japan gearbeitet.
Für Martin Schläpfer werden Bartóks 44 Duos für zwei Violinen zu Impulsgebern für 44 Tänze. Nach "Schwanensee" und "Ulenspiegeltänze" kehrt der Choreograph zu der von ihm hochgeschätzten intimeren Kammermusik zurück. Es sind jene von Volksliedern und -tänzen inspirierten Miniaturen, deren scheinbare Naivität ihn faszinieren – das Zurückkehren zum Einfachsten: zur Essenz. Weitere Informationen und alle Vorstellungstermine finden Sie auf dieser Website.